Ukulele Music>. $175.00

We will mail your Photo CD to your home. We can also upload your full-resolution photos upon request for you to view right away online at DropBox.com.

TESTIMONIALS: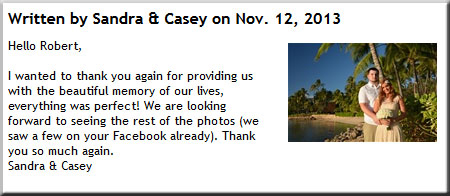 The Vow Renewal Package is available every day. Other locations further away from Honolulu, such as Kailua & Lanikai, Ko Olina, and the North Shore will be an extra charge for travel fees.
Kailua, Lanikai, Waimanalo, Ko Olina - add $100.00
North Shore, Makaha - add $150.00
Ceremonies at 5:00pm or later will be our weekend/holiday rate.
For couples spending their Anniversary in Hawaii, we have a special offer!
See: HAWAIIAN ANNIVERSARY PHOTOS
We also offer FAMILY PHOTOS for memories of your trip to Hawaii with your children.
See: HAWAII VACATION FAMILY PHOTOS
See other Wedding Packages at:
www.bridaldreamhawaii.com/packages.html
Most Popular Wedding Locations:
1. Waialae Beach Park
2. Magic Island

Bridal Dream Wedding Company
Box 23311, Honolulu, HI 96823
Office: (808)924-3600
Cell: (808)772-1140
Fax: (808)356-0806
bridaldreamhawaii@gmail.com