Ukulele Music>.
$225.00

We will upload your full-resolution photos for you to view right away online at DropBox.com.

Also see: North Shore Vow Renewal

TESTIMONIALS: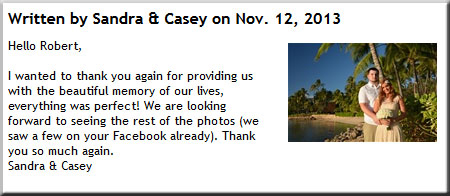 For couples spending their Anniversary in Hawaii, we have a special offer!
See: HAWAIIAN ANNIVERSARY PHOTOS
We also offer FAMILY PHOTOS for memories of your trip to Hawaii with your children.
See: HAWAII VACATION FAMILY PHOTOS
You may add other wedding options to any of our packages. Let us know if you would like Flowers, Cake or Music.
*Waimanalo has sunrise views but is not recommended for sunsets. Midday tends to give us the best blue skies.
Contact us to discuss your Vow Renewal plan and we will put you on our Wedding Calendar. Mahalo!

Bridal Dream Wedding Company
Box 23311, Honolulu, HI 96823
Office: (808)924-3600
Cell: (808)772-1140
Fax: (808)356-0806
bridaldreamhawaii@gmail.com